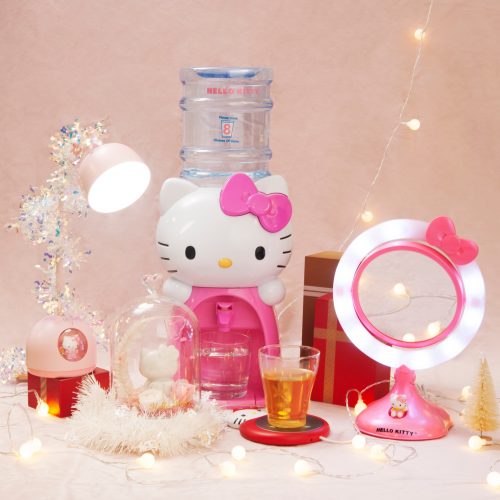 Everyone knows someone who is obsessed with Hello Kitty. If you are shopping for one this Christmas (or if you are a Hello Kitty lover yourself), you'll be delighted to know that a range of super cute Hello Kitty-themed products have landed at city'super.
Sanrio® Hello Kitty Mirror with Light
Perfect for makeup application, this adjustable double-sided mirror has one normal side, and another side that can magnify objects five times. The frame can also light up and the angle can be adjusted. It even comes with a Hello Kitty-shaped on/off switch.
Sanrio® Hello Kitty Preserved Flower Night Light
Elegant and romantic, this night light has a glass dome filled with carefully selected preserved flowers. The dim yellow light brings a touch of warmth in the quiet night.
Sanrio® Hello Kitty Table Lamp Night Light
With bionic natural light that is soft and easy on the eyes, this light does not flicker and can help relieve eye fatigue. Suitable for using in the study, office, or as a night light. Can be connected to a computer, power bank or 5VDC power adapter for charging.
Sanrio® Hello Kitty Cup Warmer
High-quality stainless steel insulation board compatible with stainless steel mugs, ceramic cups and glasses. Simply plug in via USB cable.
Sanrio® Water Dispenser Hello Kitty
Easy to clean with a detachable water tray, this PET plastic water dispenser with 2L of volume can dispense up to eight glasses of water – either cold (7°C) or room temperature (25°C)
Source: City'super